(Make sure to scroll down and read)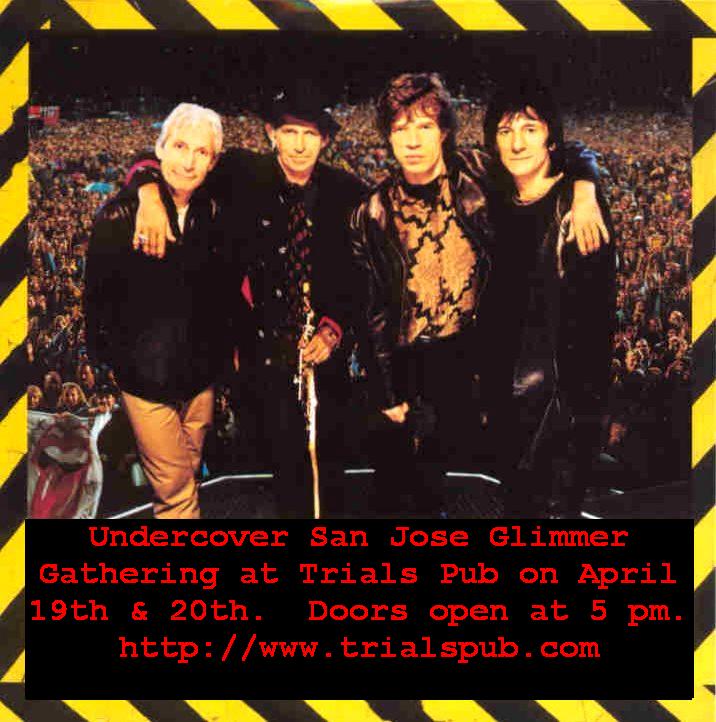 We found a REAL pub! It's in an historic 99-year-old building, which has been, among other things, a jail, a barber shop, a restaurant, a hotel, a brothel, and a saloon. It has a homey British atmosphere, typical British foods (as well as a vegetarian option), and many many many British beers.
From experience, I can tell you they *know* how to pull a pint. To borrow from Portigal, "It's British and near the Courthouse. The Stones would love it."
On April 19 and April 20, 5:30 - showtime.
Trials Pub
265 N. First St. (between Devine and Julian)
San Jose
408.947.0497
http://www.trialspub.com
There is free parking nearby, and it's a 12-minute walk to the arena.
You'll find a map and directions on the pub's web site.
There are two parking lots nearby, both on Devine Street between N. First and Market Street. One costs $3, and the other is signposted "Jury Parking only". However, the pub owner assures me that the Jury Parking is free after 6:00.
When you enter the front doors of this long building, you'll see an area furnished like a dusty Victorian sitting room. Walk in and you'll run into the long long bar. Follow the bar back, and there is an area in the rear (The "Snug"), where there are some tables, a dart board, and a graffiti wall awaiting our additions.
We'll surely take over the entire place, and Glimmers will be able to circulate and see each other easily from all areas. We'll also take over the sound system, and you know what will be played. It's a little worn around the edges, but it's got that feel that seems so right for a band of Glimmers. For those of you going to London this summer, this pub will give you an idea of what pub life there is like...
Tanking up:
Beer - 12 British brews on tap, 6 more available in bottles.
They pull a genuine Imperial pint, which is larger than the American pint...
Get ready for a 20 oz glass in your fist. Selection of wines. No liquor.
See the web site for the complete list, which includes Guinness, Double Diamond, Caffrey's, Murphy's, lagers and more.
Food and appetizers:
See web site for menu. If you want to eat, get there a little earlier to give them time to make it! Allow about 20-30 minutes for your food.
Sip that Imperial pint, while you wait.
After show:
Although they usually close at midnight, they'll stay open later if they know we're coming back for our nightcap...
How to walk to the arena:
From the door of Trials Pub, walk left half block to Julian Street. Turn left.
Follow Julian until you arrive at the arena, about a 12 minute journey.
Cheers! Broost! Salud! etc.